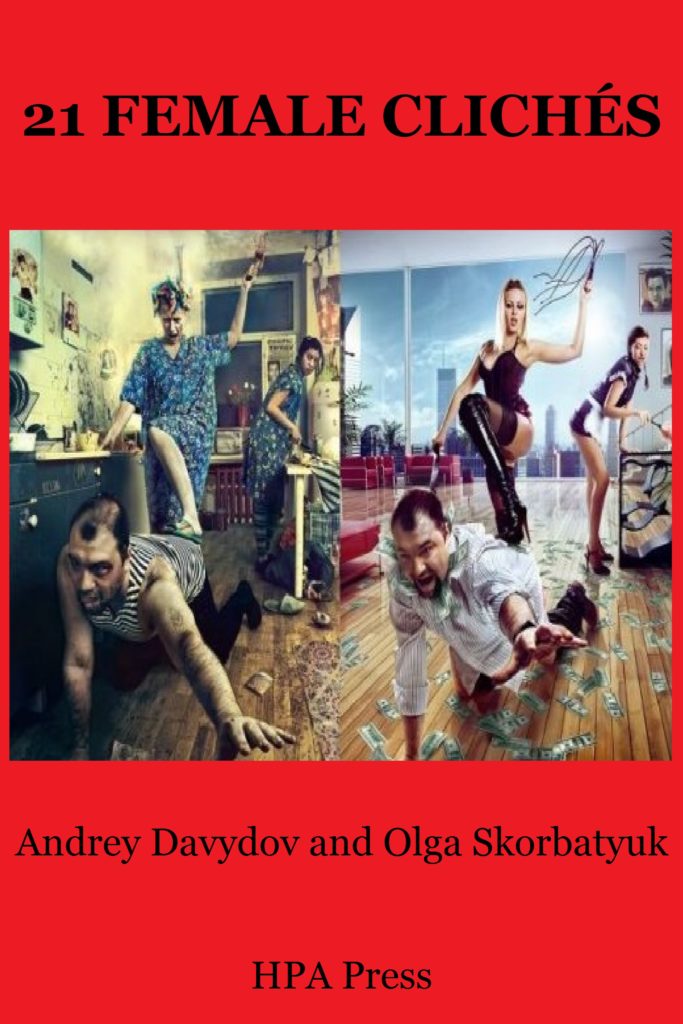 ISBN: 9781310096686
(Purchase an eBook or an AudioBook.)
---
21 FEMALE CLICHÉS
By Andrey Davydov and Olga Skorbatyuk
Translated by Kate Bazilevsky.
Table of Contents
21 Female Clichés
What Are Female Clichés?
Overview Of 21 Female Clichés
Summary
Our Others Books Related To Our Scientific Research
21 FEMALE CLICHÉS
What Are Female Clichés?
The topic of this book is Female Clichés. The book is devoted to new principles of female psychology. It is based on a new scientific direction called Non-Traditional Psychoanalysis. The information presents some of the results of scientific research and Non-Traditional Psychoanalysis led by the Special Scientific Info-Analytical Laboratory—Catalog of Human Souls. The laboratory studies the ancient Chinese manuscript called Shan Hai Jing, where structures of 293 human subtypes are described in great detail. You can learn more by visiting www.HumanPopulationAcademy.org.
This book legalizes one of the subconscious female secrets discovered by the laboratory. As you may already know from our other books and informational materials, a woman has created and arranged this society. There is also another interesting fact that was found: a woman has once created 21 clichés for herself to use. Until now no one in psychology ever considered so many clichés. So the question is: why did women create these clichés? Well, this is another one of female secrets that is no longer a secret! The thing is that women use clichés as management tools. So, today you will learn about these female clichés as a powerful weapon for survival, as well as seduction and conquest of men.
So, what is a cliché? First of all:
Female clichés are forms into which a woman pours her true essence, like water gets poured into a particular container.
A cliché is a mask or a cover up, which is recognized by society. Having put it on, a woman enters a particular situation without effort and problems.
…
…
So, altogether there are 21 Female Clichés. They are:
Cliché 1: HOUSEWIFE (WIFE)
Cliché 2: SHAMAN
Cliché 3: MISTRESS
Cliché 4: BUSINESSWOMAN
Cliché 5: NARCISSIST
Cliché 6: MATCHMAKER
Cliché 7 PRIESTESS
Cliché 8: GODDESS
Cliché 9: QUEEN
Cliché 10: SCHOOLGIRL
Cliché 11: CLOWN
Cliché 12: SERVANT
Cliché 13: NUN
Cliché 14: ACTRESS
Cliché 15: AMAZON
Cliché 16: MAID
Cliché 17: COMMANDER
Cliché 18: BEGGAR
Cliché 19: TRADESWOMAN
Cliché 20: HETAERA
Cliché 21: SPY
…
---
To read more purchase an eBook. 
---
© 2005 Andrey Davydov, Olga Skorbatyuk
Translation © 2012 Kate Bazilevsky
© 2016 HPA Press
All rights reserved.