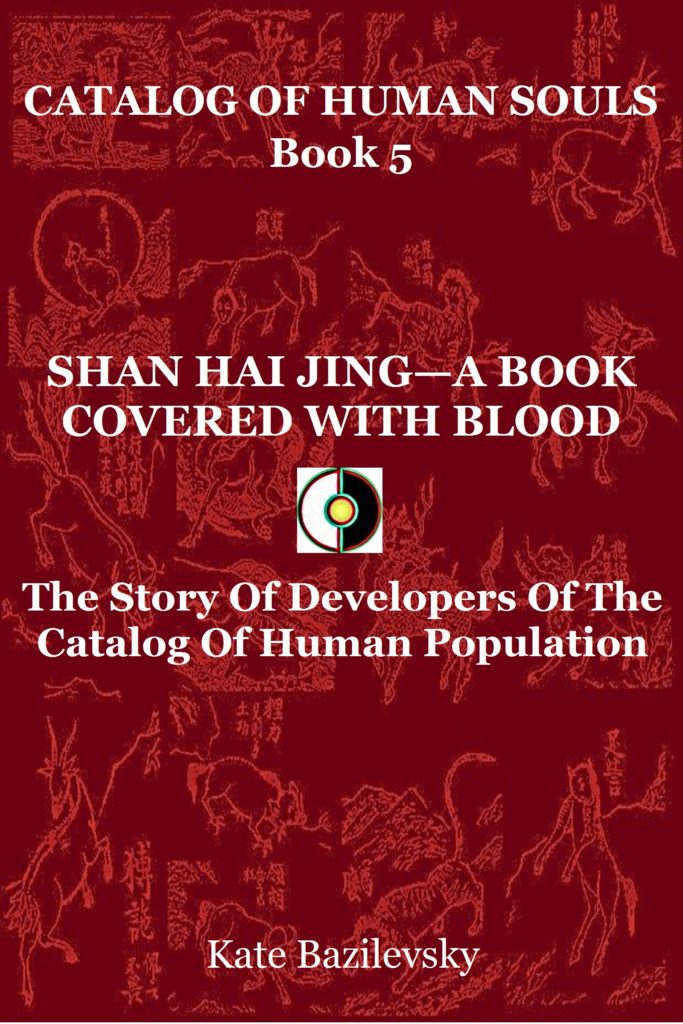 ISBN: 9781310766732, 9780996731249
(Purchase an eBook, an Audiobook or a physical book.| На русском языке доступно здесь.)
---
SHAN HAI JING—A BOOK COVERED WITH BLOOD
The Story Of Developers Of The Catalog Of Human Population

By Kate Bazilevsky
Chapters 2-4 translated by Anonymous
Chapters 5 and 6 translated by Kate Bazilevsky
---
Dedicated to the 40th anniversary of the discovery of the Catalog of human population by researcher Andrey Davydov.
---
Table Of Contents
Chapter 1 "Spy Super Thriller For Hollywood"
Chapter 2. Story From Political Case Of Andrey Davydov—The Author Of Discovery And The Main Developer Of The Catalog of Human Population
Chapter 3. Story From Political Case Of Olga Skorbatyuk—Andrey Davydov's Colleague In Scientific Research
Chapter 4. Testimonial Evidence From Political Cases Of Andrey Davydov And Olga Skorbatyuk
Chapter 5. Interview With Andrey Davydov
Chapter 6. Interview With Olga Skorbatyuk
Appendix. Documents Confirming Authenticity Of This Story
Our Others Books Related To Our Scientific Research
Connect With Us
About Us
PREFACE is the same for all 5 books in the Catalog of Human Souls series and it is available here.
INTRODUCTION
Although it might seem like someone's figment of imagination, from beginning to end this story is not fiction. This is a documentary story that happened to real people and it tells about the real events of their lives. However, dear fans of fiction, do not rush to close this book, as it describes really fantastic things and events. Fantastic since, first of all, in 99% out of 100% people caught in such circumstances cannot tell anything to anyone anymore because they are no longer alive. Secondly, if we believe historians and archaeologists, then that what happened to people in this story has never before happened to any person, who has ever lived or lives in this civilization.
In essence, this story is about how a certain person was searching his bookshelf for something to read and in the end found a book, which turned out to be the source, from which it is possible to obtain absolutely any kind of information about absolutely any person. Meaning, information to the smallest particulars and details about what his or her qualities of personality are, how he or she lives, what he or she really wants to achieve, what he or she hides, and much more.
And, it does not matter, if the subject is some person, who lived in the distant past or lives in the present or someone, who will live in the future. Since, as it turned out later on, this literary monument is nothing other than the Catalog of human population. In other words, the encyclopedia of Homo sapiens; in essence, the same as encyclopedias, reference books for specialists, which contain complete information about representatives of a particular subspecies of animals, plants, etc.
Although at some point, the course of this story turned banal: "bad guys" from security services, intelligence services, politics decided to not only use this source of knowledge for their dirty deeds, but also to appropriate it solely for their personal use. And, the way they tried to do this is also banal: by physically destroying the author of discovery of the Catalog of human population and all of his colleagues.
However, the ending of this story makes it stand out from the category of ordinary spy stories. At least because the main characters of this story managed to survive not due to favorable concatenation of circumstances or someone's help, but thanks to that knowledge, which they discovered in the ancient Chinese monument that turned out to be the Catalog of human population. Since, being one of the most ancient sources preserved in this civilization (according to some researchers it dates back to XXIII century BC), this monument contains not only information concerning the structure and functioning of psychophysiology of the entire Homo sapiens population, but also unique recipes.
The story of how this survival occurred technically is described in the following sections of this book. It is highly probable that this story might turn out to be informative and somewhat unexpected. Especially for fans of spy stories, who are familiar with activities of security services only from books and movies, which do not describe how things happen in reality. And, the evidence of that this story, despite being fantastic, is not someone's fantasies are official documents, in which it is recorded—declarations from political cases of Andrey Davydov and Olga Skorbatyuk, developers of the Catalog of human population. Originals of these documents are stored at the United States Department of Homeland Security, Federal Bureau of Investigation (FBI), etc., and the evidence of this is presented in the Appendix in the form of photos of these documents.
This book is not memoirs and it certainly is not an autobiography, despite that I personally was a direct participant of some events described in this story. I am telling about events from lives of my colleagues in research and I am doing it in the format of a chronicle; that is, without refracting described events through the prism of my personal thoughts, opinions, attitudes, and so on. As the saying goes, only dry facts.
This book does not contain details of personal lives of developers of the Catalog of human population—Andrey Davydov and his colleague in scientific research Olga Skorbatyuk. Also, it does not contain a description of their entire life paths, their biographies. This book describes only a limited period of their lives; to be more precise, the period between 2000 and 2011. That what occurred before this period is briefly mentioned in chapters following the Introduction.
This book does not describe that what happened after 2011 and that what is happening right now. Even though the story with persecutions, unfortunately, continues to this day, Andrey Davydov and Olga Skorbatyuk, as well as all staff members of the Special Scientific Info-Analytical Laboratory—Catalog of Human Souls prefer to tell about their scientific research and discoveries, and not about this story or about themselves personally. After all, by its level of captivation and significance, even the most exciting story from people's lives cannot compare with multifarious, often shocking and practically very useful information that researchers obtain from the ancient source of knowledge Shan Hai Jing and other ancient books, which they study.
Readers of this book might be wondering: why does it have such title, if people in this story managed to run away from killers? The reason is that, unfortunately, not everyone managed to survive. People died as a result of persecution by Federal Security Service of Russian Federation. However, mentions of this, stories of how and where it happened, their names and so on cannot be presented in this book due to certain specific reasons. However, this is precisely why the ancient Chinese monument Shan Hai Jing, which turned out to be the Catalog of human population, is really a book covered with blood. Blood of innocent people, who were killed because they happened to be in the way of scumbags from Federal Security Service of Russian Federation, who by any means want to take possession of information from the ancient source of knowledge about structure of a human and his psyche, the Catalog of human population. And, they want to have this Catalog only for themselves, even though this ancestral heritage must belong to all humanity.
In conclusion, I would like to use this opportunity to state that you will not find names of people, who are somehow connected to this story—not in this book, not anywhere else, for example, in our other books or on the Internet. Their names cannot be disclosed due to confidentiality, which these people want to have, as well as for security purposes.
The main reason for writing this book is that many of those, who learn about the discovery of the Catalog of human population want to know about the person, who made this discovery and about his colleagues in scientific activity, but accurate information about all of this was not and still is not available anywhere except this book and the website of the Human Population Academy.
This occurs for two reasons. The first reason is explained in detail in the Introduction to Book 1 of the Catalog Of Human Souls series and is connected with that all reliable information about us on the Internet almost always gets destroyed; immediately or after some time. The Introduction mentioned above contains some examples of this, even though those are not the only cases. The second reason of that it is impossible to find comprehensive information anywhere (including on the Internet) about the author of scientific discovery of the Catalog of human population—Andrey Davydov, about his colleague in developments of this Catalog—Olga Skorbatyuk, about myself, the founder and the director of the Human Population Academy, about all other staff members of the Special Scientific Info-Analytical Laboratory—Catalog Of Human Souls, and about our partners in research and business is confidentiality of all this information. Everything that we are ready to tell about ourselves is presented in this book, as well as on our website at http://www.humanpopulationacademy.org.
Unfortunately, due to confidentiality of personal information and for security reasons, we cannot provide any other information about any one of us. Neither I nor anyone else has the right to provide information about our laboratory's staff and about our partners, to reveal their names, provide their telephone numbers, email addresses, and so on. And, I am officially stating this is this book. This is done so that every person knows that if somewhere in public sources, for example, on the Internet, one comes across statements that someone is an employee of our Laboratory or Academy and his/her name and contact information are provided—it means that this is disinformation or fraud (or both).
It so happened that those people, who use the Catalog of human population, and especially those, who are directly related to scientific research of Andrey Davydov and Olga Skorbatyuk have to stay, so to speak, invisible. And, we—authors of the Catalog Of Human Souls book series—truly envy them in this sense. To our great regret, now we simply have nowhere to hide, as we already "became famous," and this happened against our will and against our wishes. However, everyone else who has any relation to the Catalog of human population, including our colleagues from the Laboratory and the Academy, between fame, glory, recognition and life have every right to choose the latter. After all, Shan Hai Jing, unfortunately, is a book already covered with blood.
---
Purchase an eBook, an Audiobook or a physical book.| На русском языке доступно здесь.
---
© 2015 Kate Bazilevsky
Chapters 2-6 © 2012 Andrey Davydov, Olga Skorbatyuk
© 2015 HPA Press
All rights reserved.